The MEAPbook
by Jeff Snyder, Columbia University
with advisors Dan Ellis (EE) and Douglas Repetto (Computer Music)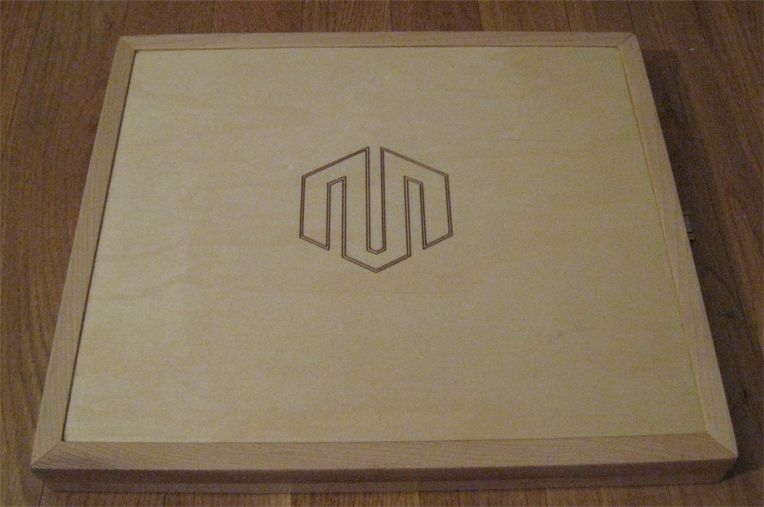 Update (October 24th, 2007):
I just got two new touch-panel layouts fabricated. One of them is an improved version of the "crispy hexagons" layout, the other is an early test of a 4-octave piano keyboard version, with LED feedback. So far, I've built six panels with the crispy hexagon style. When I have some time (probably after Dec.1) , I'll finish up about 8 more to give out to beta-testers. Here's a photo of the assembled ver1.3 MEAPbook... It looks (and works) much better than the original "Soviet" prototype...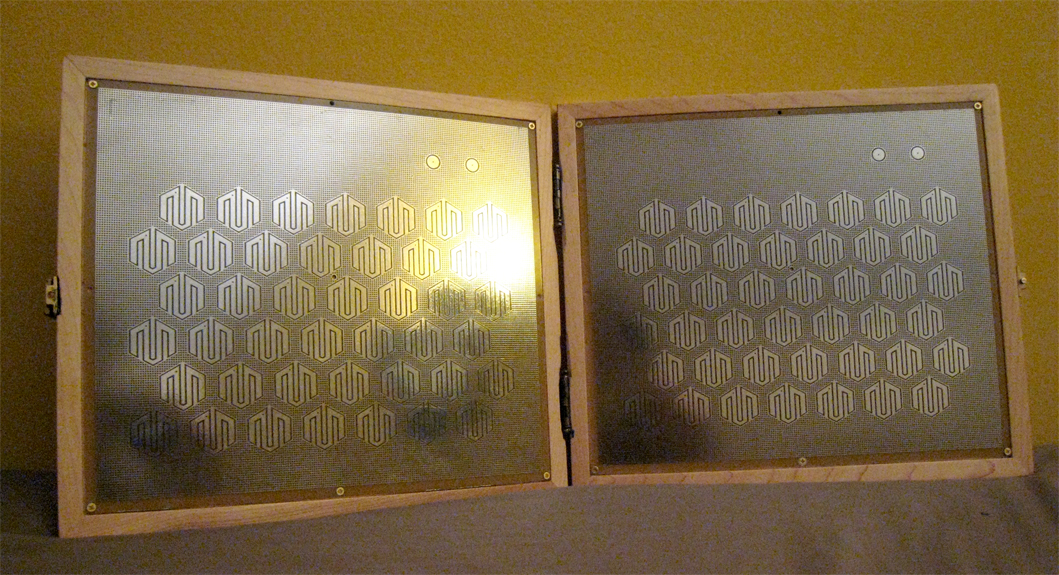 Update (August 14th, 2007):
I've been working on putting together the wooden cases for the new ver.1.2 MEAPbooks, and I've got some photos of the process. Also included are photos of the ver1.2 circuitboards - check them out! Once the new MEAPbooks are in their cases (possibly by this Thursday) I'll take a new video, and take some new photos where it's not all grimy.
Update (August 7th, 2007):
I just recieved the MEAPbook version 1.2 circuitboards back from the assembly house, and they work! I'll be putting up new photos as soon as I get a chance to make them...
Update (July 16th, 2007):
I recently finished the board design for the MEAPbook version 1.2. I recently sent the CAD files to get these boards professionally fabricated by PCBExpress, and to be assembled (since I can't place QFN parts by hand) by Screaming Circuits. Exciting! The populated boards will be back to me around August 6th.
The vesion 1.2 design has two circuit boards in each panel of a two-panel system. One 3x2 inch board houses the PSoC chip, USB connector and 5-pin ISSP/I2C header, while another 10x12 inch board contains the traces for the capacitive sensors. The two boards are connected together by a 1.0mm pitch, low-profile board-to-board connector. I'm hoping to get 10 full 2-panel MEAPbook systems finished by mid-August and in the hands of some beta-testers soon thereafter. Unlike my bulky and ug-mo ver1.1 prototype, the new design will fit in an 11x13x1.25 inch case when folded up (only 5/8in tall when unfolded) and will be nicely finished with a varnished wood exterior. Thanks to Cypress Semiconductor for donation of the PSoC chips for the ver1.2 prototypes!