1/1/2015
Happy New Year! Wow, 2015. It seems so... sci-fi!


---
1/2/2015
Maybe I should make this a tradition: start off the New Year with a recounting of the holiday-themed "joke of the year" contest we hold at our family Christmas gathering. We had three contestants this year.
(Nana): Mom had a few points knocked off because it wasn't a true 'holiday theme', but the spirit is surely there. She told a tale about a dockworker who was charged with unloading Snapple beverages when they arrived for distribution. The problem was that this particular employee really liked Snapple products. His love for the taste of 'kiwi-strawberry' and 'peach-mango' fruit drinks overcame his sense of propriety. He would inevitably break into the shipment of Snapple products and drink nearly all the bottles.

Of course the shipping company was up-in-arms, and the dockworker was fired. However, he would still sneak into the distribution facility the night the Snapple arrived and drink his fill.

It turns out that, except for his Snapple problem, he was one of the best workers they had. An enterprising shipping executive at Snapple had a terrific idea: They told the errant worker that they would make a special flavor just for him, and they would arrange for him to get one bottle every day if he would stop wrecking the shipments. He agreed, and everyone realized:

A Snapple a day keeps the docker away



(me): Mine was rooted in a traditional Christmas carol. I discovered later that neither Daniel nor my two nephews had heard the original song, so the joke was lost on them. Dang young-uns!

Anyhow, the story was about a special, high-end-cuisine oyster that had to be shelled in a very exacting way to be served properly. Learning the shelling technique required years of training under a master who knew the art of removing the oyster from its shell. It had to be done very cleanly, under a fountain of running water. The oyster was removed using a very sharp knife. The sharpened knife was used to make single incision just above the oyster's gills, thus enabling the oyster to come out in one piece.

A new apprentice was trying to do this, but he totally made a hash of things. He had neglected to sharpen his knife, and he made multiple cuts all over the oyster. Worse, he did it out in the open on a workbench, not using the clean running water necessary for the procedure.

The master came over and was horrified by what he saw. Barely containing his anger, he said to the apprentice:

Go, shell it in the fountain
Cut over the gills, not everywhere!
Go, shell it in the fountain
&nbsp &nbsp &nbsp &nbsp [then he noticed the dull knife]
Jesus Christ, it's worn!



(Daniel): Son Daniel came up with a new angle on the Holiday-joke thing. It was also a good welcome for our new son-in-law Itay (for those who don't know, it's pronounced with a short-I first syllable, and a long-I/long-E diphthong second syllable: ih-tahyee -- this is important for the joke).

Daniel recounted that back when he was much younger and an aspiring entrepreneur, Itay was in business with an (also) much younger Barack Obama and a programmer friend named Chris Klaus. They had met on the internet due to mutual programming interests. Between the three of them, they had come up with an astounding (at the time) new e-mail system. You could simply dictate the e-mail text and it would do a text-to-speech transcription. They settled on a working name for the application: "mail-extra". This was cutting-edge work back then, but the problem was that it took a very long time to do the translation, rendering the e-mail app almost useless.

But Itay and Barack wanted to push ahead with the app. They arranged a conference call, and Itay asked the question: "Shall we confirm or deny continuing work on this project?" Itay obviously confirmed, as did Obama. Chris, however, hesitated and told them he was leaving the team. His exact words:

Barack/Itay... I deny.
I don't hate you... mail-extra's too long...
[best said over a candelabara-like thing]

So there you have it. Welcome to the new year!


---
1/10/2015
I hate it when I do stupid, unthinking things. Even simple acts, they wear me down. This morning Jill had left some pancake batter out to make pancakes for our late-sleeping son when he finally woke up. After we had eaten our breakfast, I promptly went to clean the dishes, and as I was thinking "no! this is to be saved!" I cleaned out the remaining pancake batter. It was a mind/body problem. For some reason this really got to me. I felt bad.

What made matters worse is how petty that depression-trigger was. Front page news: terrible Islamic jihadists attacked a satirical newspaper in France, killing seventeen people. Buried back on page seven or eight we read that an estimated 2,000 people were killed by the insane Boko Haram maniacs (go figure that little news-disparity). And here I am sad because of some missing pancake batter? Jeez.

I guess we do the best we can with the life we've been given. I come out of the mild depression, and I realize how fortunate I am. I look at this picture, taken at the CMC Party/my Book-Release last month:

and it makes me happy. (photo taken by my sister) Jill and I, we never realized this is how life would go. Here we are, and we hopefully have a bit more time left. Where do we go from here?


---
1/25/2015
We're expecting a major snowstorm tomorrow, and possibly for the next two days. Blizzard warnings! 2+ feet of snow! We'll see...

There is something interesting in the sense of anticipation that surrounds you when you know a big event is coming. I go outside and look at the dark sky. I look at the weather maps on the internet, the blobs showing the progress of the snow bearing down on us. We'll see...

This past week was an amazing week. I'll write more tomorrow.




---
1/27/2015
We're now into the second week of the term, although it has been strangely delayed (see below). Jill is visiting her friend Debbie, friends since early elementary school, in Florida, and I've had some time around here to finish up a few things.

The holiday break was one of the better ones I've had. I got a lot of chore-programming done, and I feel semi-caught-up (only semi!) with things. Family visits were wonderful. I feel renewed. I was also able to get some music done:

Roosevelt Arts Project event, and a few good recordings to came out of it with friends Karl Fury and Terry Pender:

About the strange delay of the term: we were predicted to have received over two feet of snow in what they were calling "one of the worst blizzards in New York's history". Long story short, we got about four inches. Which is fine, and quite nice, but I do have to confess that it was a little disappointing after the huge blitz of media hype. Columbia even cancelled classes for a day-and-a-half in advance of the "worst blizzard"; hence the strangely delayed-ness of classes. I'll have to work to get things caught up and on track again.

Here are a few photos I took of the snow. I waited until near dusk this time to capture that nice, alienated feeling I get in winter's gloaming. Plus I have so many pictures of similar snowfalls now. I thought this might be an opportunity to try something slightly different:




---
1/30/2015
As I've noted at least a few times in my recent writings here, this blog has shifted from mortal-contemplation notes to more prosaic practices: reporting on events, general and probably fairly banal observations on 'everyday life', texts of that nature. I've also noticed that it can also act as a confessional of sorts, maybe in the same way that a "Dear Diary" has functioned for countless young writers through the years.

This is one of those confessional posts. Several days ago, while Jill was away visiting one of her friends in Florida, I was frantically working to get my classes set for the term. The non-snow-event gave me a free day at home, so I decided to get more base programming done. I mention Jill being away because woking at home, alone, for several days can make me a little weird. Anyhow, I needed to get access to some information from a company whose software we use extensively at the CMC. When I went to the company web site, I discovered that they had completely redesigned it, adopting the annoying current design-du-jour approach of GIANT graphics with minimal site-navigation tools. The GIANT graphics gave me no information I could use, and I ultimately gave up trying to find what I needed.

Here's the bad part: I then called up Gregory, one of my best friends in the world. He works for the software company, although he has nothing to do with their web design. I yelled at him! I mean, I really cut loose! Poor Gregory, he had no idea why I was in such a state. I had also been having problems all day with the new Columbia mailing system from hell, and I was really worked up. Gregory finally got me calmed down, and indeed got me the information I needed in short order. I felt terrible afterwards.

It's funny, but through episodes like this I feel I also gain insight into my father. Dad also can have a very short fuse about life's small irritations, and his temper flare-ups can pass like a fast-moving summer storm (oooo! metaphor!). He can then flip quickly back into relative calm again, leaving those of us around him fairly blitzed. I think what Dad can do is turn his exasperation into action, and this is probably one of the things that made him such a great legislative leader. I can't do that. The hangover from my temper outbursts lasts much longer, and instead of positive action I withdraw into an extended remorsefulness.

When I've (rarely) talked with Dad after an anger episode, he will maintain "but I am right!" And he often is. My sense of rightness is more contingent, and as a result I'm less willing to forgive my reprehensible actions (like yelling at my best friends or family). I can't see them as constructive in any way. I just wallow in self-pity. Wonderful. But about that new company web site? I am right. It's just awful.




---
3/1/2015
I looked away from the window just now, and then looked back and it was snowing. I stopped writing in my blog for a moment, and then a month has passed! It's been a fairly intense month, hence my laziness in scribbling semi-random prose here. The past two weeks I've been dealing with a really bad head-cold, the kind of badness that required chest x-rays to be sure I wasn't developing pneumonia. All is well, though, and I'm almost feeling like a normal human. I saw Dr. Pearse several days ago, and my immune system has been functioning like it should. Yay! I look back outside as I type this, and it's snowing harder.

First of all: HAPPY BIRTHDAY MOM!!!!!!! Today is in fact Mom's day, and I send her my best wishes. I also missed marking bro-in-law John's birthday here last week, but we did manage to get him a fun gift (only one day late).

In the interest of some sense of completeness, I'll try to go through the various things that happened during February:
I won an award! Late in January (see my January 27 entry above). Now that it has been officially announced I can say a bit more about it. The award is the Lenfest Distinguished Faculty Award, and it's one I'm particularly pleased to receive because of the student-mentoring component. That's one of the things I've done at Columbia that makes me happy -- our students are simply amazing. I feel very fortunate to have landed in a position here, almost thirty years now. Here's a link to the Music Department announcement of the prize.


We bought a new car! It's a 2015 Prius, almost exactly like our other Priuses:
We had planned to buy one awhile ago, but the Lenfest money certainly helped.


I gave a presentation of my three "book-things" at the Italian Academy for Advanced Studies at Columbia. Rick Whitaker of the Academy had come to our CMC Holiday Party/App-Release Party in December and was happily impressed with my book-reading at the party. He and Susan Boynton (current Music Department Chair) put together an evening for me to do extended readings from the book-apps. Here is the announcement of the event: Brad Garton: "The Books Of Music, Dreams, And Memories" (multi-media performance) complete with a video interview!

The evening was pretty amazing to me. I was worried that few people would show up (I spent most of that morning answering regrets from friends who couldn't make it). My fears were misplaced: standing room only! I started the reading with what seemed a decent crowd, and I looked up to see a large number of people still trying to get into the hall. Although my bad head-cold was incipient, I felt on top of the world. It was great to see a number of old and new friends, colleagues, students, and people seemed to enjoy the presentation. It could not have gone better.

Terry and Gregory were also there, providing music as people entered the hall. I'm pleased they were there -- Gregory coming all the way from Madison -- even if I did pass my bad cold along to Gregory.


My sister Brenda received good job-news. She's been asked to teach a summer class for WNEC in Sorrento, Italy. I think we need to visit, for sure. Brenda's really had to work hard for her accomplishments, and it makes me very happy to see her getting the recognition she deserves. Go sissy!


Jill's "retirement" has been busy. Her class at Rutgers has been going very well, and this past week she accepted an appointment to serve on the Roosevelt Borough Council again. "Retired", yeah.


Classes have been going well, but I did have to cancel one week because of my illness. It really was bad! I should be able to make up the lost time. The class I worry most about is my graduate seminar in iOS/Android programming, but the level and motivation of the students is really high. I just have to keep up with them.


The timing of my cold was such that I was able to meet some other presentation-obligations. I was able to give a pretty good overview of recent CMC activities at the Digital Projects in Music Research colloquium organized by Susan Boynton and the University Libraries this past Friday. Yesterday I was a guest speaker at a Music 'Hackathon' at the Spotify headquarters in New York. Both went well, I think.


We've gotten through our admissions process for grad composition, and we're nearly complete with our Sound Arts admissions. Some very good students coming again.


On the other side of the process from graduate admissions, a number of our recent or soon-to-be minted doctoral students are on short-lists for academic positions. These are difficult to achieve, with typically several hundred applicants for each open job. The search for a music/technology faculty member at UC-San Diego (a respected music program) is quite something: all four candidates on the final short-list are former CMC students. Yikes. I think we're doing something right.


Things are looking good for a return trip to Japan this summer. More on this later.

It's still snowing outside, although the snow is now alternating with sleet. As is obvious from reading through this blog, I like snow (see here or here for example). This February has been odd, though. The snow has fallen sneakily, often along with rain/sleet. We've had a goodly amount, but perhaps because of my activities and bad cold I haven't enjoyed it as much as I normally would. The first part of the winter was so snow-barren, and then WHAM! in February it fell, and fell. My poor sister and brother-in-law with a record amount in a short time, their ceiling partially collapsed in the kitchen. Ouch! It's also been extraordinarily cold, with a number of days below zero (F). March 1 and it's still snowing, but now changing to sleet (blearg) again. At least I'm not feeling as badly as I was.


me at the Italian Academy
---
3/15/2015
The Ides of March are up on us. I'm at the beginning of our spring break week, with about a month's-worth of work to get finished during the coming five days. We've had a spell of seasonable weather, at last, and most of the February snow has melted. The snowdrops have sprung up, and springtime finally seems like a valid proposition. Daniel's home relaxing in his room, Jill is down at a conference in Washington, and I've spent a fair amount of the afternoon doing something I haven't done as a singular activity for awhile: listening to music.

I generally put on music while I'm doing other things (I'm hearing Sheltering Sky by King Crimson as I type this, for example), but I have fallen out of the habit from my much younger days of simply listening to music, by itself, doing nothing else. What happened this afternoon is that I put on an old Genesis song, Dancing with the Moonlit Knight, and I sat down to edit some class web pages. I hadn't listened to this older song for quite awhile. It was one of my favorite pieces back in High School. For some reason, hearing it today unleashed a flood of memories: the first time I heard it, sitting in Pat Kennedy's room, the time Pat and I went to see Genesis perform and they opened with this piece, hearing it my own room at home, imagining an unimaginable future; it was overwhelming. I stopped my work and listened to the rest of the album. Just listened. It is/was springtime, and I felt -- powerfully -- what it seemed like to be me in 1974. Back then, I had not heard music like the Genesis piece before. The mellotron choir swelling in, it was absolute magic. I remembered what it was like to exist through music. To be wrapped in sound that powerful. I wanted to make that stuff.




---
3/22/2015
Yesterday was the first full day of Spring. We got about 4-5" of snow! Our poor little crocuses and snowdrops: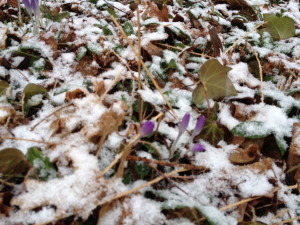 &nbsp &nbsp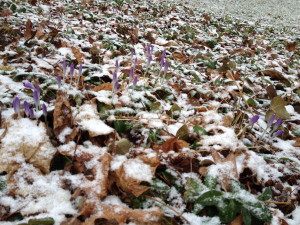 &nbsp &nbsp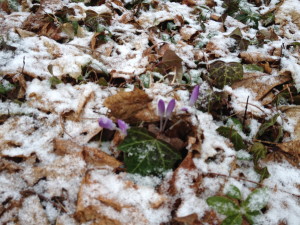 These photos were taken as the snow first began to 'stick'. Click here for more photos of our February (and now March) snows this year.

Even with the snow, however, I feel that I'm coming back from something. This past week was our spring break, and I managed to get caught up with some work that I had been putting off. Don't get me wrong -- this has been an exceptional year for us so far. Things are going well! I do think that my cold/flu for several weeks(!) last month took a toll, however. When you're feeling low, it's difficult to imagine how you can function when you're better. And vice-versa. The seeming effortlessness of doing simple things like responding to e-mail queries when healthy is remarkable. Spring actually is coming.

Here is a panoramic photo Jill took after one of our more intense snowstorms a few weeks back:



One more thing, another sign that I'm feeling much better. I finished a new piece this week:


---
4/4/2015
For at least the past several months, I've been having very vivid and strange dreams again. I haven't been able to recall most of them, though. I just know when I awaken that I've had an odd dream-world episode. Sometimes I can recall fragments of them. For example, I can remember the end of a dream in which my friend Terry Pender had to construct a 1/4-mile patch of road. He did an amazing job! Each piece of gravel was individually-placed... Other times I can tell that my mind is attempting to reconstruct an experience that was beyond anything directly experiential, a dreamscape that cannot be described or categorized.

Two nights ago, however, I had a dream that charted new sensual dream territory. It was so unique that I woke about 4 AM and scribbled it down so I wouldn't forget it. People sometimes wonder if they "dream in color". Yes, I do, and a read through my dream recollections in My Book of Dreams will show that some of my dreams are entirely of color. I've even had olfactory dreams (see the chapter "Cinnamon" in the book). My recent bizarro dream was an experience of taste.

In the dream, we lived next door to my good friend and colleague Dan Trueman. Our homes were located in a neighborhood similar to my Wood Lake childhood. There was a hedge-like fence between us, but we could communicate by hanging special laundry items out in the back between our houses and the lake. The laundry didn't function as a semaphore, instead it was a technology that opened a conduit we could use to interact with each other.

Dan was very pleased because the drummer Carl Palmer of the old prog-rock band Emerson, Lake and Palmer (one of my favorites when I was young) was visiting. However, Jill and I were thrilled because the folk singer Cat Stevens (now named Yusuf Islam, but he was Cat Stevens in my dream) was staying at our house. I mentioned this to Dan while 'conversing' through the laundry, and he said that Carl Palmer was exceptionally nice because he brought some jasmine-flavored honey. He passed me a jar of it through the laundry interface.

It was delicious! I can recall the taste, like nothing I've really had before (well, perhaps a little like the thyme-honey we would get in Greece). A tasty dream!

One thing else odd about the dream: The house -- somehow it collapsed so that both the Truemans and Jill and I were sharing the place -- reminded me of a house I had dreamed of before. BUT... I'm not sure if I just dreamed that I had dreamed it before, and that dream-suggestion has now retroactively become true for me. If so, I guess we can alter the past and construct our own real memories. Cool.




---
4/18/2015
HAPPY BIRTHDAY DANIEL!

I missed my birthday here four days ago, but that's just fine. Grad students Nina Young and Chris Trapani brought me an apple pie (Nina had put on some candles!) at the end of my evening class, but otherwise it was a 'normal' near-the-end-of-term day. Now I am 58 years old.

But Daniel -- he's 21! We had a terrific dinner with him at a very nice Thai restaurant kin shop (season one "Top Chef" champion!) downtown, after a really interesting screening of a movie about climate change/Antarctica, Antarctic Edge: 70° South featuring some work Jill was involved in (the Slocum Glider, yeah!). It was a wonderful evening.

In fact, this has been a wonderful week. I need to write what has been going on -- pretty intense, but it all went well. Right now I want to relax and enjoy birthday-ness.




---
4/29/2015
I need to write here more again. I think about writing things here a lot, but then I don't. It's been an intense semester, but things have gone well. I've successfully negotiated an increase in our tiny CMC budget (the only Center at Columbia to receive a 'structural' increase, apparently). I'm getting back on track with some programming. Classes have gone very well. Our students are fabulous, both incoming and outgoing. Daniel's show was amazing -- and we had a wonderful visit with my sister and bro-in-law. Lian's career is soaring. Jill has been doing amazing work, pedagogically and creatively. I'm totally in remission. I should write these things!

Tonight I had an awful concert experience, very much reminding me of why I hate concerts. The music was material I would truly enjoy, listening at home, relaxing and concentrating on it. Instead I was in a crowded hall, really hungry, way over on the east side ($50 in cab fares to get there-and-back again because of time constraints), worried about work I needed to finish this evening, and this weird lady next to me kept breathing like a broken radiator and plugging her ears with her fingers. Wonderful.

Whine, whine, whine. Why do we insist in academia at venerating The Concert as the high point of achievement? The world has changed.

My old friend Dave Fulton will be visiting this weekend, arriving tomorrow! Oh the memories...




---
5/8/2015
Springtime has completely sprung, and we're at summertime temperatures already. It's gorgeous outside. This is when I like my job -- I sat on the back porch for most of the day grading final papers and exams, listening to a chorus of woodpeckers at work in various parts of our woods. I did the first total lawn-mowing (Jill had done some partial ones prior), and the garden looks amazing. My visit with Dave and Susan was great -- we laughed and laughed -- and this has been a red-letter year at Columbia. We've received several grants, more on the way, and our students look terrific for next year. People were even commenting about how amazingly well things have gone for us all at the end-of-term Departmental meeting. It almost has me worried!

It has all been pretty intense, though, hence my sporadic blog-postings here (and apologies to people to whom I still owe e-mail replies). And we have another trip to Japan looming in a few more weeks. I think this is fun. Well, actually I know it is fun. How? Every once in awhile, I get a sharp memory coming through from three years ago. This was the time of year when I first returned home after my stem-cell transplant. Things can change, quickly and dramatically. But for now, life is very good. I'll take that.




---
5/22/2015
Dang, I've let a few things slide but now am getting caught up. This seems par for that proverbial course, of course. One example: I wrote the previous post on May 8, several weeks ago, but then neglected to put it up here in the blog until now. Sheesh.

This has been another beautiful spring day. I was outside earlier this morning and saw a tiger swallowtail butterfly dart through in the wind. Later when I was walking around town, I saw another flying down by Empty Box Creek. I looked up the road and saw the distance I had to walk to get home, thinking about the time involved in that walk. Tiger swallowtails always remind me of Lian and the time we were surprised (scroll down in the post a bit) by the butterfly that had metamorphized over the winter. I thought of that distance, too. Then I happened to glance up to see this scene:

I thought about time and space, and the existence of things and events. Why do I write these silly things? Why do I say these silly things? I am here, and it seems real to me. I like for the past to be that way, too.


---
6/23/2015
Wow, a whole month has gone by and I haven't written anything here. I'd like to pretend that this means that all is well (I am still in remission, yay!), but I'm still taking Revlimid, and I still need to visit Weill-Cornell every month or so. I sometimes worry that complacent times foreshadow the more 'interesting' times. But that is necessarily true, right? In the meantime, life just rolls right along.

And what a roll it has been lately! Jill and I are traveling really fast right now, on the Shinkansen to Hiroshima. Yes, we're back in Japan. I've been here for a couple of weeks already, doing a fun 'sound arts' workshop with Douglas in Karuizawa. It went really well; the MFA students we brought (Alice and Chatori) from our program and the Japanese students who participated were terrific. Plus we got to see all of our good Japanese friends again (Akira, Johnathan, Cathy, Naotoshi, Cynthia, and new friends here, too!). I've been really, really busy with this, which is my feeble excuse for not scribbling more in this blog lately.

The workshop is now finished, and Jill and I are taking a few-days' break before returning to Seattle and then home. We're going to Hiroshima, staying in a well-known ryokan recommended by Gregory Taylor (we miss Gregory on this trip!), and then we plan to visit the famous Koya-san monasteries before heading back to Machida and then Narita airport. I have had much to type here, but a lot is probably now lost to memory. I hope to restart some random postings again, on various random things.




---
7/20/2015
Another month gone. It's been an ... energetic summer. Vigorous. Intense. Lots of stuff. Lots of fun. Lots of work. I'm even generating some music again, yay!

I'll switch over to a new 'set' of months, even though there are few entries here. I still think, but I don't find the time/energy to type my thoughts. I think I need to do this, though.

Quick run-down:
Japan was amazing, as always. Koya-san, Miyajima, Hiroshima, and the workshops prior to these visits were terrific. Photos and documentation on-line soon.
Excellent trip to visit Brenda and John. We went to the Clark Museum to see an amazing exhibition of Van Gogh paintings. Then a great afternoon, a great dinner. A great weekend.
Also saw Whistler's Mother at the Clark. That James McNeill Whistler was one modernist guy. The original picture was titled Arrangement in Grey and Black, No. 1. Nope, no context allowed there. Objective reality! Truth!
Fun 4th of July in Roosevelt. Etra Lake fireworks were intense. It had started to (slightly) rain, so they set off about 45 minutes-worth in 20 minutes. Yowsah!
Wonderful visit with Lian and Itay, and we saw some whales! Plus Lian is just back from a week in Bangalore, India. Oh my.
Very nice visit with Mom and Dad in Indiana. Hot, humid, but a good Hoosier summertime experience. We accomplished things.
And other stuff.


---
7/31/2015
Tonight is a "blue moon". With a fair amount of rareness ('once in a blue moon...'), the lunar cycle aligns so that two full moons appear in the same calendar month. It makes me think about how we arbitrarily structure our lives. We overlay different frameworks: religion, math, philosophy, and then we look at the paste-up job and say "yeah, that's how it is." I guess it has to be somehow...

A good appointment with Roger two days ago. My stats are still as normal as can be, but he did raise the possibility that I might be facing another transplant in the future: "You're about three years out from the transplant, now, and it seems that average for relapse with the low-dose Revlimid is about four years." I hope to beat the odds on this one! Maybe by about 20 years or so?

In the meantime, life keeps unfolding. High summer now, with temps in the 90's for the next few weeks. The night-time katydids have come on strong, and the fireflies are beginning to wane. I have loads of stuff to do, and I seem to be falling behind. But that's normal for me. Things will change, fast or slow.




---
8/6/2015 -- next page