PGT: Wood Lake, IU and the FARM
December, 2009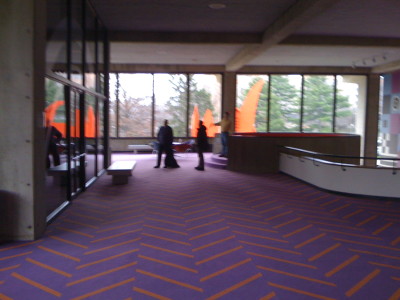 one of these is not us (hi John!)
Indiana University Institute for Digital Arts and Humanities, December 3, 2009
Wood Lake, Columbus IN, December 4, 2009
The Root Cellar (FARMbloomington), December 4, 2009
(all mp3 files)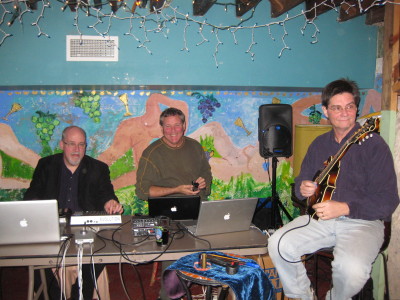 this is us



I got to be back home again in Indiana thanks to a nice invitation from John Gibson. John was interested in having us (PGT) play and talk about our music/software, and he was able to arrange a presentation through the auspices of the Indiana University Institute for Digital Arts and Humanities (here is the flyer for the event). John also had us do a presentation to his graduate computer music class, very timely since Gregory's company Cycling '74 had just released their new and long-anticipated product Max for Live integrated into the popular Ableton Live software.

We were also able to draw upon the good graces of a family friend of ours (his mother and father are among my parents closest friends), world-renowned Chef Dan Orr. After making a name for himself as Executive Chef at famous restaurants such as La Grenouille and Guastavino's in New York and the CuisinArt Resort & Spa in Caribbean Anguilla, Dan had decided to start a strong 'localvore' restaurant in Bloomington, Indiana (Indiana Universiy is located there also). near our family homes on the western side of Columbus, Indiana. His restaurant, FARMbloomington is one of my most favorite places to dine. Absolutely incredible food. Dan had also started an interesting bar (the Root Cellar) as part of his restaurant, and they had been booking a rather eclectic set of musical acts. I wrote to Dan to see if he would be interested in letting us do a performance there, and poof! -- PGT in the Cellar! The FARMbloomington staff was terrific. I even got to see some friends from my High School at the event.

It was wonderful to see John and Alicyn Warren again; I've known both of them for nearly 30 years now! (We were all in grad school together.) Their dog, Jess, was amazing. And of course seeing my mom and dad, and the recordings we did back at my childhood home (Wood Lake outside Columbus, IN). Very good trip.


Terry Pender -- mandolin
Brad Garton -- laptop
Gregory Taylor -- laptop

Click on the links below for pictures: