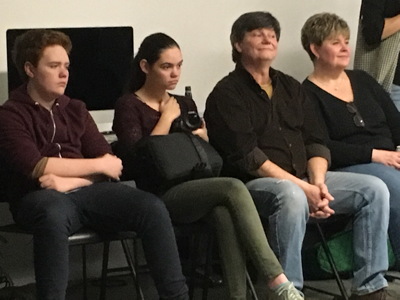 Terry Pender Retirement, 12/14/2017
This is what the announcement said:


Hey everyone!

As you may have heard, Terry Pender will be retiring from his position at
the Computer Music Center at the end of this year.  We're planning a
big GOOD BYE TERRY! party at the CMC on Thursday, Dec. 14 from 7-9 PM.

Please come if you can, and please distribute this news to anyone you
think should know.  I hope to see you on 12/14!

Write me for more info if you'd like: garton@columbia.edu

brad



and we had a few videos sent in from selected far-flung friends and colleagues:

and OF COURSE some performances:
Doug and Dan had both gone to graduate school with Terry at the Cinncinati Conservatory of Music. That's where I met them all.

Walter Frisch (Music Department chair), Zosha DiCastri (former Terry Teaching Assistant and now colleague), Fred Lerdahl (Fred!) and I all spoke about Terry's amazing years of service to Columbia and the CMC. A lot of good friends, colleagues and collaborators came to wish Terry the best. He deserves those wishes!





WE MISS YOU TERRY!!!!!!! DO GOOD STUFF!!!!!!!