[sc3~]
v 0.996 -- January 2011
based on SuperCollider 3, v 3.4



Brad Garton
Mac OSX 10.5/6; Max5

download sc3~


[sc3~] links the sound synthesis and signal-processing capabilities of the SuperCollider 3 music programming language into the Max/MSP real-time music environment. This extends both applications in a variety of ways:
[sc3~] integrates the full range of SC3 synthesis and signal-processing capabilities into the Max/MSP graphical patching system.


Within Max/MSP, the [sc3~] object can easily link to other development languages and environments, including Jitter (OpenGL), JavaScript, Java, JMSL, LISP, RTcmix, ChucK and CSound.


SuperCollider 3 scripts can be developed, triggered and controlled from within Max/MSP, and the scripts can be saved with Max/MSP patchers for easy storage and retrieval.
[sc3~] is similar in many of these respects to the [rtcmix~] and the [chuck~] objects.

The original SuperCollider language was written by James McCartney and is now an open source (GPL) project maintained and developed by various people. For more information about the SuperCollider 3 language, visit the SuperCollider 3 home page.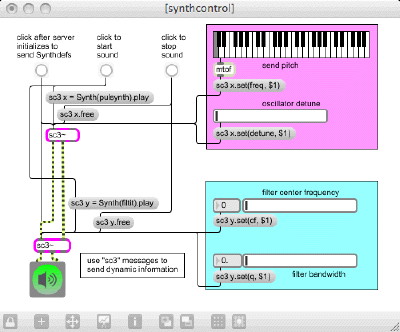 ---
Download and Install


&nbsp Max5/Macintosh Directions (sorry, no windows version at present!)


sc3~_0.996_osx_max5.zip &nbsp&nbsp(5.6 Mbytes download/20 Mbytes on disk)
v 0.996 -- 1/31/2011



This will unpack to a single "sc3~_0.996_osx_max5/" folder. Inside this folder two sub-folders, "SC3/" and "SC3-help-0.996/". You will need to place them somewhere on the Max5 search path. I recommend putting the "SC3/" folder in


   /Applications/Max5/Cycling '74/msp-externals/


and the "SC3-help-0.996/" folder in


   /Applications/Max5/Cycling '74/msp-help/



NOTE: Be sure to remove any existing "SC3/" folders, "SC3-help/" folders, or [sc3~] objects from the search path.
Move the entire "SC3/" and "SC3-help-0.996/" folders intact -- do not take the [sc3~] or sc3~.maxhelp objects out of the folders!
Earlier versions of the [sc3~] object for older Max and OSX machines are available here.


---
Source Code
SuperCollider 3 is covered by the GNU General Public License (GPL). The following downloadable archive contains the source code and XCode project for the [sc3~] object, the sclangpipe command used to bridge between the proprietary Max/MSP application and SuperCollider 3 application, and the files modified to allow the scsynth process to send audio through a UDP socket:



sc3~_0.996_src.zip &nbsp &nbsp(66 Kbytes download/320 Kbytes on disk)
sc3~ 0.996 using SC3 v 3.4 -- 1/31/2011
---
Known Problems
Note the less-than 1.0 designation of this object. I'm sure it is probably a bit "brittle", it has not been extensively tested and the method I use to invoke the SC3 processes can sometimes be very flaky. I hope people can find some use from the object. If enough interest is there, I may work to fix outstanding bugs and make it more robust. I'm also not a terrific SuperCollider programmer (as you will see by looking through some of my SC3 code in the help patcher), so there is much that I've 'left to the imagination'. Such is life.

I do know to watch out for these particular issues:
1. The scsynth server process takes about 5-10 seconds to initialize even after the "SC3 server started" message appears in the Max window. If you send any SC3 scripts prior to this initialization, nothing will happen. This becomes problematic when SynthDefs or other initialization code need to be sent. Keep clicking, and be (ever-so-slightly) patient!

2. Issue #1 could be resolved by having the [sc3~] object send a bang out through an outlet once it receives notification that the server is initialized. Unfortunately data coming back from the server through the sclang process is not retrievable in this version of the object.

3. This also means that you will not see output from SC3 in the Max window. All SC3 language and server printing goes to the system console window, to view it use /Applications/Utilities/Console.app. OSX does a really ridiculous buffering of this window (can anyone tell me how to circumvent it?), so it may take awhile for the SC3 messages to appear.

4. Very occasionally I have noticed that one of the UDP ports used by [sc3~] won't close 'cleanly', and this prevents the object from working properly. The port will eventually be released. This seems to happen when working with [sc3~] objects nested in sub and sub-sub patchers, especially if you are deleting and creating new ones. You can 'fix' the situation by creating a new [sc3~] object and using it in place of the one causing the problem. Or reboot your machine.

5. You will note on the help patcher a comment that [sc3~] works best when the signal-vector and i/o-vector sizes are both equal in Max/MSP. This has to do with the way audio buffers are being filled and sent from scsynth. Other combinations of signal and i/o vectors will work, but the CPU load gets very intense. Also, when the i/o vector is more than 4 times larger than the signal vector you may hear 'skipping' or interrupts in the sound. Vector sizes smaller than 32 are also difficult. 256/256, 512/512, and 1024/1024 all seem to work very well.

5a. Something has changed in OSX 10.6 which causes problems with multiple servers. It seems that a large (4096 or greater) vector size is needed to prevent buffer gaps/clicks when using more than one server in a patcher. I'm not sure why this is. Sorry!

6. Stereo only for now. I also haven't tested this much with external audio hardware, but it should work ok...

7. Certain quarks interfere with [sc3~] operation. I believe they are quarks with a graphic component, which makes sense. Check the max/msp forum archives for discussion of these.


I'll bet there are many more problems with the [sc3~] object, but they probably won't show up until just after I make this all publicly-accessible. Let me know how it goes for you!


[NOTE: Any bad-coding problems in the [sc3~] object 'proper' are all mine mine mine, of course. I'm not a Real Programmer.]

Brad Garton
garton - at - columbia dot edu
January, 2011