modudrones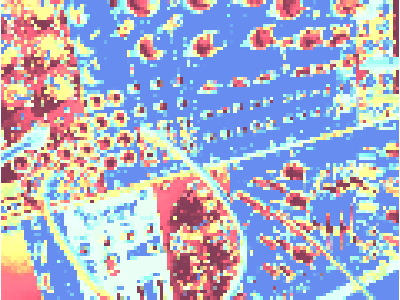 modudrones &nbsp&nbsp(mp3 format; 24:20 -- 35.0 Mbytes)



This is another recent piece that grew by splicing together a set of smaller pieces (below), done as little 'etudes' after dinner here on Whidbey Island. One of the last things I did before embarking on my sabbatical (this coming year, yay!) was to invest in a 'modular' synthesis setup. Many of my students and colleagues have been having fun using analog synthesis and I figured I should give it a go, too. For me it was like going back in time. I had started my electronic music odyssey back in the 1970's using analog synthesis (that's all there was back then!). I felt young again. Sort-of.

I cranked up my new hardware and started fooling with long, droney sounds. That's what you do with modular synthesizers! Ha ha! I also threw in some electric guitar in a few places on top of the drones, often processed through the modules. Not sure what I think of this one. I think the ending is a bit too long, but I'm inclined to move on for now.

Here are the individual little etudes that make the larger piece above (slightly rearranged order in the piece):



These weren't actually the first pieces I did with my modular synth. I got everything connected and did a smaller one to familiarize myself with the gear. Here it is:



modpiece1 &nbsp&nbsp(mp3 format; 2:36 -- 3.7 Mbytes)



I sent it out to a group of my friends who had been 'promoting' a modular synth approach to life. This is the text accompanying that message:


Hey gang!

I got a batch of eurorack modules delivered to me on Monday, thinking it
would be fun to delve into the modular world (like some of you have done,
ha ha).  So yesterday I put the thing together.  I also thought it would be
fun to make a piece of Real Synthesizer Music to try it out.  As you know:

-- Real Synthesizers have lopass (spelled that way) filters and they go
Wow.  Wow.  wow.  wow.  wow.  All those other noises they make are wrong.
Wow.

-- Real Synthesizer Music sounds German, in a Klaus-Schultzey/Tangerine-
Dreamey/Kraftwerkey way.  It's best when it has an annoying, repeating
sequencer line.  Wow. wow. wow. wow.

-- The big noise at the end of the piece was made using a virtual modular
synth I coded up for fun on my last weekend in NY two weeks ago.  Wheee!

Fun stuff!  Hope you all are doing well...