mlooch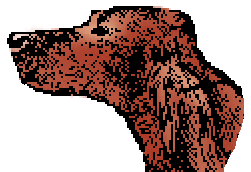 originally done in 2000; updated 12/2010

mlooch is my first attempt to write a complete Macintosh app using the snazzy music DSP/synthesis language Max/MSP from Cycling74. I probably got a little bit carried away fooling with some of the interface stuff (menus especially), but I do get a kick out of the resulting sounds. If you enjoy droning, ambient sounds that go on forever and ever, then this just may be the right app for you.



---
I Wanna Hear Them Sounds!
&nbsp mlooch.app.zip -- for Macintosh OSX (latest version for OSX 10.5/6, max5 (12/2010); unpacks to "mlooch.app")
&nbsp &nbsp &nbsp &nbsp11.1 Mbytes download





---


these below are older versions for older machines/OSes. I decided to keep them here. For Windows users, the maxpatch should be able to run with Max5, but I haven't built the standalone myself yet. When I first created "mlooch" I didn't have a Windows machine.

click here for the standalone app. &nbsp &nbsp NOTE: this is an old OSX version, click here for the 'classic' (i.e. really old) one


And if you're a real masochist,

click here for the maxpatch "source" in all its hideous glory. &nbsp &nbsp NOTE: this is now the current (as of 12/2010, OSX 10.6/max5) OSX version, click here for an earlier (OSX 10.4, max4) version or here for the 'classic' one
---
How do I work this crazy thing?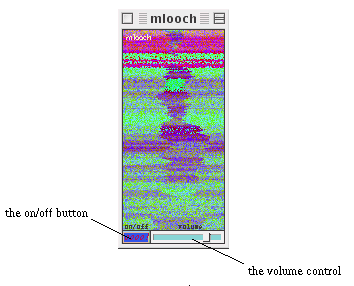 Well, duh.

If after pushing the "on/off" button, you don't hear soothing, relaxing, ethereal, modern-space-age sounds, then your computer is BROKEN BROKEN BROKEN and there's nae I kin do fer ya, laddie.
---
The Ancient History of mlooch
Years ago (like, in the OLDEN DAYS, c. 1988-89) there was a fabulous computer called the NeXT machine. It came with a nice package of Objective-C classes and libs called the MusicKit (I think you can get a contemporary version of it at musickit.sourceforge.net). The MusicKit compiled to code that executed directly on a Motorola 56001 DSP chip included in the computer. Thus it was possible to run sound-producing processes on the machine with virtually no load on the host processor. Back in the days of 25 Mhz 68030 main CPUs, this was a Big Deal.

In order to learn the MusicKit, I wrote a simple app called "Looching" that generated long, droney tones -- I love to have this gunk going in the background while hacking, reading, writing, etc. I guess I was a Gregorian-chanting monk in a former life. Something rather remarkable happened after posting the code to various ftp sites. I started getting e-mail from all over zee world from people who enjoyed "Looching". Amazing! I didn't dub a single cassette! The Future is Now! This was a few years before things like Mosaic (remember that?), the World-Wide Web, Netscape, "surfing the web", etc. became the independent memes that have infested our collective consciousness today, and I was totally enthralled by the possibilities of a networked world.

Since that time, I've become older, more jaded, more cynical, yeah... all that... been there, done it, been back, got bored... but I still have a soft spot in me heart for them droney sounds.

By the way, "Looching" was reinstantiated in a number of different forms. Here's a listing of a few:



Looching2.0.tar.gz -- the original source files for the NeXT version
Contemporary MusicKit Looching -- a version ported to the new MusicKit (maintained by Leigh Smith)
jlooch -- a very recent version done using JSyn, a java-based digital sound synthesis/sig-processing language. It can run right in your web browser. Most of the time. Although I did jloochabout the same time as mlooch, jlooch makes different droney sounds. Go ahead -- try it out! The web page is fairly similar to this one.
crudeLooch.c -- a really stripped-down and basic version (no interface) in C for RTcmix
RTcmix Looching -- a nicely-interfaced version done by Luke Dubois using RTcmix
loochlisp -- a version of looching in the lisp language gcl, using RTcmix
---
Semi-Silly Answers to Semi-Silly Questions
Q. Why is it called mlooch?

"Looch" was the name of a wonderful dog we owned through most of the 1980s. Unfortunately, Loocher passed away a number of years ago, but the Spirit of the Looch still lives on... the hound was amazingly mellow and had a darned good approach to life. She lived to the ripe old age of 15 years, not bad at all. We should all live such happy lives.


Q. What is the story with all these references to dogs, woofing, barking, etc.?

The most direct reason is implicit in the previous answer. Another Fun Factoid: the first networked CMC (back then the EMC) computer was "woof.columbia.edu". Looch (the dog) had an incredible howl, and we used a digital recording of it for testing and demonstrating a lot of our software back in the wild days. For several years, Loocher claimed the title of 'most digitized canine'. We used to call our users' group meetings of people doing computer music at Columbia woofmeetings. We were strange.


Q. Why is this web page so dull and boring? Why don't you have fancy Shockwave or Flash things happening? Where's all the nifty graphics and colors?

I am old and tired.


Q. Are there any known bugs?

Yes.
---
Contact
Please feel free to send me comments, etc.: Brad Garton (garton - at - columbia - dot - edu). Every once in a great while I randomly answer a bunch of stacked-up e-mail. Also be sure to visit the Computer Music Center home page. It's a fun place!