iRTcmix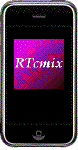 v 0.72, June, 2010
temporary add: v 0.78, January, 2011
The information here is curretly out-of-date, there is a much easier method for setting up XCode to use iRTcmix. Go here and scan through the various class 'week' links to find the latest betairelease. We will be putting the final version here in the next few weeks.
---
First of all, download this archive (about 12 MBytes):
This will unpack to a folder called "RTCMIXLIBS". Inside will be four static libraries:


librtcmix_iphone-DEV.a
librtcmix_iphone-SIM.a
libstdc++-static.DEV.a
libstdc++-static.SIM.a


All you need to do is add them to the "Frameworks" of your XCode project. You can add them all together (although you'll get warnings about invalid achitecture types when compiling for the device vs. the simulator), or you can add the obvious libs to each of the "device" or "simulator" targets and you won't see those pesky warnings. I'm lazy, so I usually just add them all at once. No compiling iRTcmix, no name-swtiching when compiling projects, a much better system.

Right now I have only one project switched over to this new approach (iRTcmix), download it here:


If you want to start developing on your own, you will want the two iRTcmix utility classes we use for managing and talking to the core RTcmix engine:
You can see how they are used in the iRTcmix app.

The other iRTcmix demo projects that come with the earlier version of iRTcmix (iRTcmix_0.72-src.zip -- downloadable from the link below on this page) will work with the new RTCMIXLIBS approach, but you will need to change the frameworks -- get rid of the old RTcmix ones and put in the new ones.

Also, we are calling this "release 0.78", we have a new one ("0.8") coming out in just about a week with many new RTcmix features. It will also include up-to-date documentation.

Happy Coding! The rest of this page is for the earlier 0.72 release, so the relevance of the documentation will indeed vary.

Brad Garton, January 2011



---
v 0.72 Material
iRTcmix_0.72-src.zip -- source + XCode projects for basic iRTcmix apps
&nbsp&nbsp13.8 Mbytes download, approx. 90+ Mytes compiled on disk

This archive will unpack to a single iRTcmix_0.72-src/ folder. The README.[rtf/tx] files contain descriptions of and basic documentation for the contents of this folder. I've also created a short demo video showing how to build an iPhoneOS app using iRTcmix: here. Be forewarned, this hi-res QuickTime movie is about 732 Mbytes.

The main RTcmix web pages are here:

ilooch app!


Brad Garton
garton - at - columbia - dot -edu
July, 2010