iLooch



iLooch is an iPhone/iPod-touch application designed to generate evolving ambient sounds. The music is not "sampled"; it is instead created by generative and algorithmic rule-sets coupled with various synthesis techniques. They'll go on forever and ever! (well, at least for a few hours...) Because the music is being constructed on-the-fly, each time it plays it will be slightly different. Such is life.

I used a synthesis and signal-processing code library based on RTcmix to realize the audio (yes, Apple, it is compiled entirely using XCode Tools), including many physical-model algorithms to produce the snazzy sounds. For those interested in such things, the iPhone/RTcmix code is here. It was like the proverbial Trip Down Memory Lane to code this app using the Interface Builder and Objective-C, as I did the first "Looching" to learn the [then new] NeXT MusicKit many years ago (see below for a link to the history and various looching programs). Although all of the iLooch musical algorithms were built for this app, I did base a few of them on code from previous looching programs, listed in that link below.

[note: iLooch will also run on an iPad, but I have a more extensive version under development for the iPad.]



---
How Can I Get Those iLoochey Sounds?!?
visit the iLooch/Apple iTunes/iPhone App Store Page to get your very own iLooch app.

Why am I charging $0.99 for iLooch? -- This is the first program I've written and distributed for which I am charging money. Mainly this is an experiment, or at least that's what I tell myself in a misguided attempt to retain a sense of communitarian virtue. I'm basically a public-domain kinda guy, but I read some silly article somewhere saying that if I charge a nominal fee people will take the app seriously! And iLooch is one serious app. Seriously. I'm actually hoping to recoup the annoying $100.00 I had to send to Apple to join the iPhone Developers Program. If I wind up making BILLIONS more, I'll probably donate a bunch to multiple sclerosis research (MS Research Foundation, National Multiple Sclerosis Society), or multiple myeloma research (International Myeloma Foundation, Multiple Myeloma Research Foundation).

musical samples
Here are a few examples of output from the iLooch app:


---
How does it go?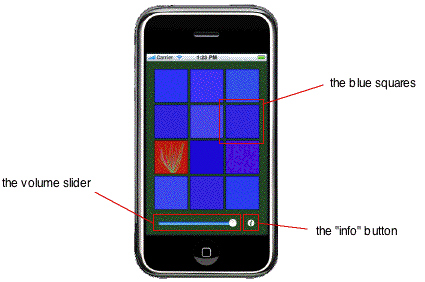 the blue squares -- select or turn on/off different looch-musics. The blue-colors shift,
watch the virtual grass grow... isn't that fun?


the volume slider -- relative volume (overall iPhone/iPod volume set by the hardware controls)


the info button -- this will get you to the 'back' screen: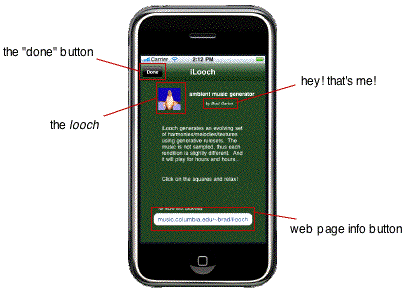 the "done" button -- touch this to get back to the 'front' screen


the looch -- this is, in fact, a picture of Loocher howling.


the web page info button -- touch this and it gets you here to this very page you are reading now!
---
The Ancient History of iLooch
Visit here to read of the looching legend and the associated adventures. There are other apps to be had, too.



---
Contact
Please feel free to send me comments, etc.: Brad Garton (garton - at - columbia - dot - edu). Every once in a great while I randomly answer a bunch of stacked-up e-mail. Also be sure to visit the Computer Music Center home page. It's a fun place!

I hope you enjoy this stuff!

-- Brad Garton, 6/2010