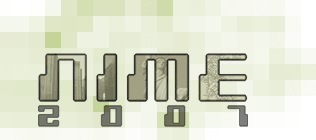 &nbsp &nbsp &nbsp &nbsp &nbsp &nbsp &nbsp &nbsp &nbsp &nbsp &nbsp &nbsp &nbsp &nbsp &nbsp &nbsp &nbsp &nbsp &nbsp &nbsp &nbsp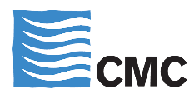 NIME@Columbia &nbsp &nbsp &nbsp &nbsp Sunday, June 10

NIME07/Columbia University Computer Music Center
Open to Public at 2:00 PM
---
Installations (2:00 PM -- 11:00 PM)
Sensity -- stanza

bd: Sound Installation with swarming robots -- Yuta Uozumi, Masato Takahashi, Ryoho Kobayash

instant city, a music building game table -- Sibylle Hauert, Daniel Reichmuth, Volker Böhm

nite_aura -- Jinsil Seo, Greg Corness

Academic Computer Music -- Sam Pluta

untitled -- Victor Adan

Ghost Jockey -- Daniel Iglesia

Percussion -- Jeff Snyder
Workshops/Presentations (2:00 -- 5:00 PM)
Richard Boulanger/Wii controllers/Csound -- 2:00 PM

Work from the Columbia University CMC (music/software/hardware) -- 3:00 PM
Concerts (7:00 PM -- midnight)
Columbia-Princeton -- 7:00 PM


music:


PLOrk:
...to shining sea -- Alan Tormey
CliX -- Ge Wang
fabric -- Scot Smallwood
Take it for Granite -- Perry Cook
NetSeq -- Dan Trueman

CMC:
American Tokyo Daydream II (incognito) -- Sam Pluta/Glisando bin Laden
untitled II -- Daniel Iglesia
NIMEpiece II -- PGT (Terry Pender/Brad Garton/Gregory Taylor)
Tepozchiquilichtlimej II (Multiplexor IIb) -- Victor Adan
II -- Jeff Snyder




open laptop jam -- (c. 9:30)


music:


NIME participants... bring your laptop, we will provide audio connections and network softwre for sharing data.
---

Directions

subway:

#1 or #9 train to 125th Street Station (if you take the #2/#3 express from downtown, you need to change at 96th Street or earlier to #1/#9).


street:

intersection of 125th Street and Broadway


from intersection of 125th and Broadway:

walk west from Broadway (towards Hudson) along 125th Street Prentis Hall is a large white building, green door, 1/2 block on the left. NIME@Columbia is on the third floor, ring buzzer for the Computer Music Center to get in.

CMC phone: (212)854-9266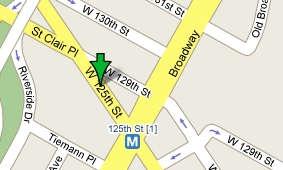 3rd floor Prentis Hall 632 West 125th Street
---

Links




come see the RCA Mark II synthesizer!