JDubiel

v0.9

Application Software for Pitch-Class Set Analysis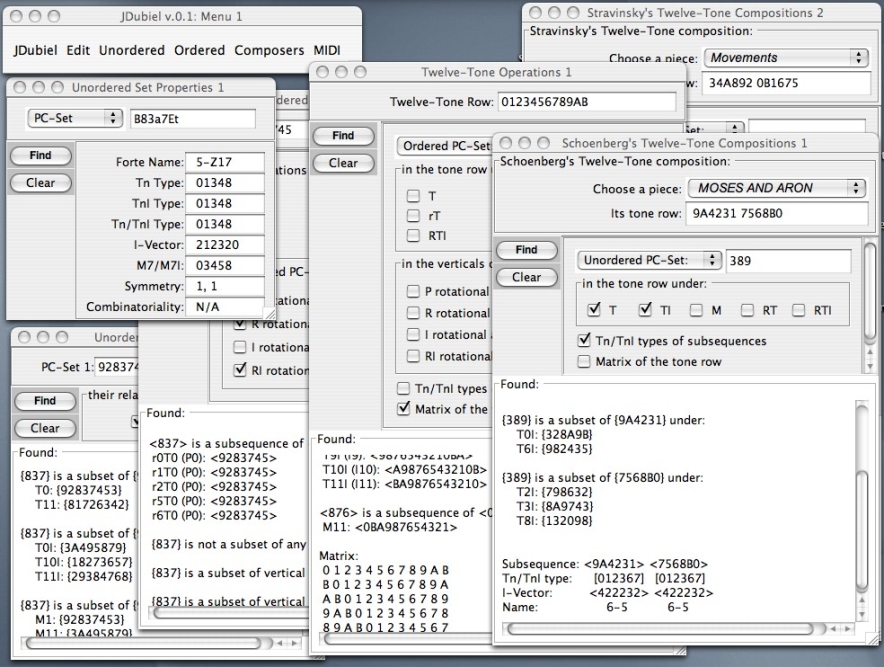 JDubiel

is an application program for music analysis, which uses analytical methods employed in pitch-class set theory.



JDubiel

is named after Professor Joseph Dubiel of Columbia University, with whom I was privileged to study pitch-class set theory. JDubial was originally written as

DUBIEL

in Objective-C, C, and C++ under NeXTSTEP and Linux as part of my dissertation project,

Stravinsky's 12-Tone Music: Some Principles of Atonal Pitch Organization

. Joe generously granted me permission to use his name for the program when I was writing it in 1995. Then he allowed me to use it again summer 2005 when I showed him a prototype of this new GUI version written in Java.



If you are a student currently studying pitch-class set theory, I strongly recommend that you should not use this program but should use just a pen and music sheets until you acquire solid skills in the theory.



Please send me bug reports, suggestions, comments, and requests for new functions, etc. at [my first name][at]music.columbia.edu.


The paper on
JDubiel

presented at ICMC 2009 is here.

System requirements:
The latest version of the Java Runtime Environment, or JRE, is required for

JDubiel

. It is available for download here.


Download the latest version of

JDubiel

for Mac OSX, Linux, and any UNIX variants (I'm sorry but there is no Windows version available).
Unzip the JDubiel_0.9.zip file and double-click on the icon of the JDubiel file: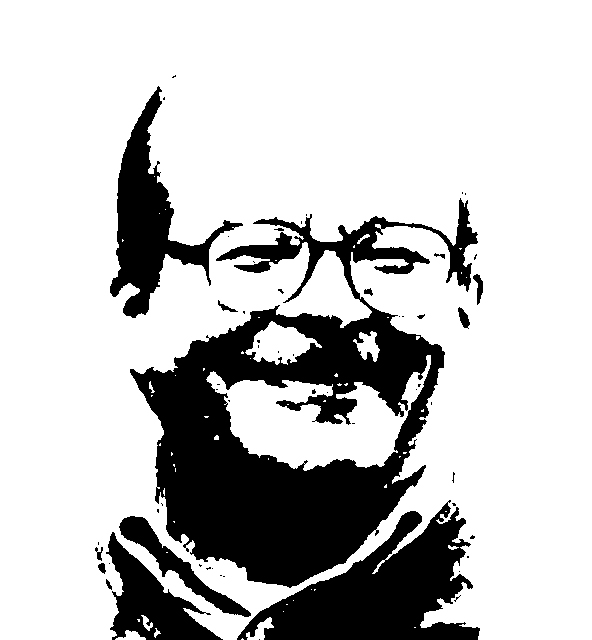 Then, depending on the OS you use, a window like one of the following will show up:







Click on a menu item ("Unordered," "Ordered," "Composers," etc) and choose a submenu.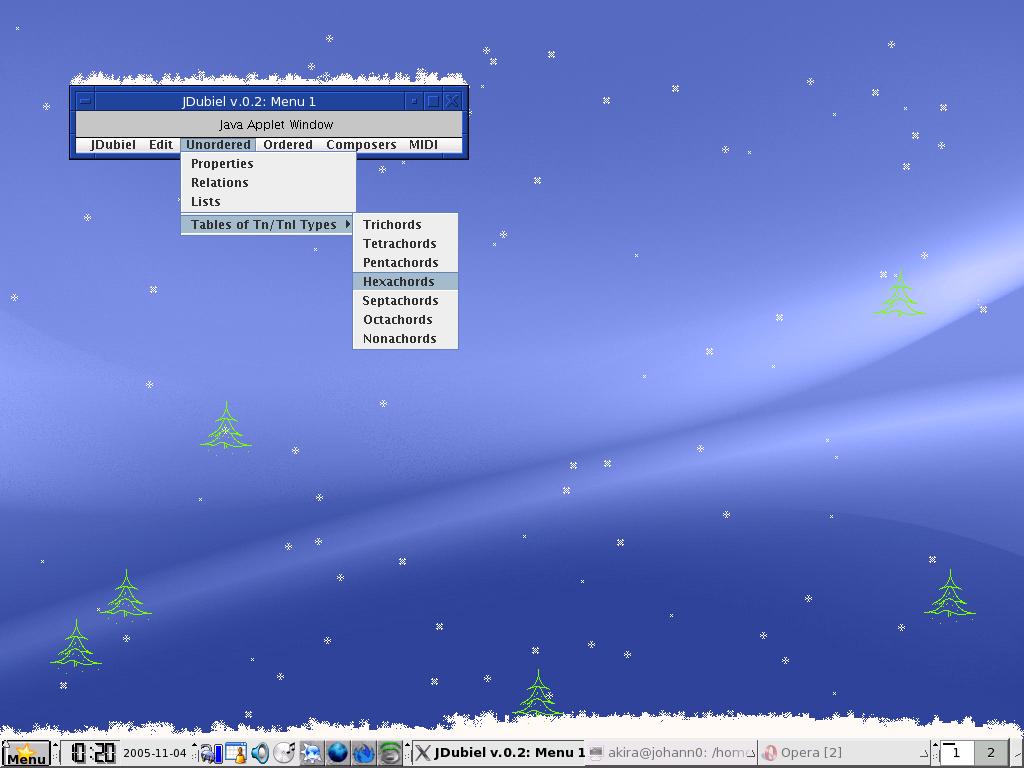 JDubiel

consists of these frames.

Developers may be interested in the Java classes used for

JDubiel

.


Troubleshooting:
Uncheck the "Block pop-up windows" option and enable JavaScript on your Web browser.

If you see the following warning message: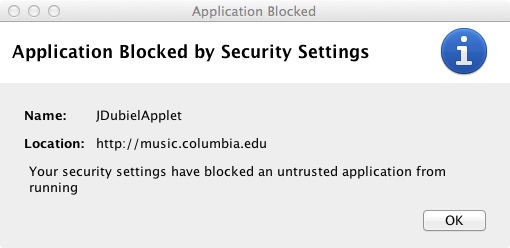 open Java Control Panel, choose the Security option, check "Enable Java content for browser and Web Start applications,"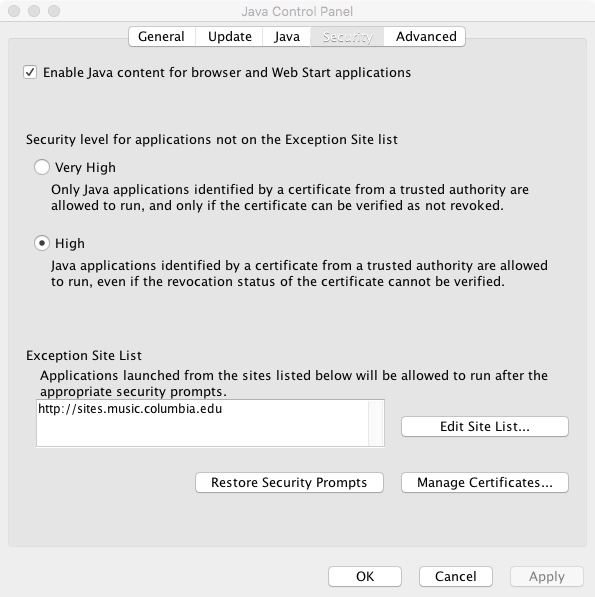 click on the "Edit Site List..." button, and add "http://sites.music.columbia.edu" (without quotation marks) to Exception Site List as shown in the following window: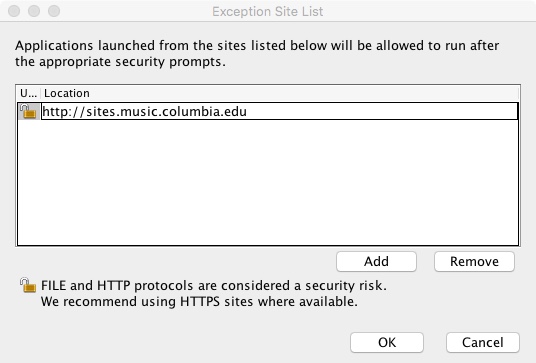 Refer to this Web page to open the Java Control Panel.

When you see the following window, click on

Run

.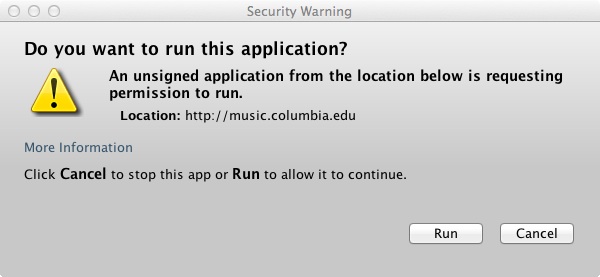 If problems still persist, give me an E-mail message.



Endorsements: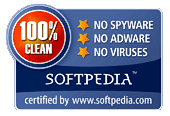 JDubiel 0.7 (JDubiel_0.7.tar.gz, JDubiel_0.7.zip) is Softpedia-guaranteed (Mac, Windows) 100% clean software.



JDubiel is SoftSea-guaranteed 100% clean software.




JDubiel 0.8.1 is rated 5/5 stars at FIBERDOWNLOAD.



Return to Akira Takaoka's home page.


Updated on 09/21/2021

Copyright (C) 2005-2021 Akira Takaoka